So after being pathetically late in making Heather of Bluhm Studios her tiara for Holly Doodle Designs Tiara Swap, I finally got it off to her! You can view all the fab-u tiaras the group made at Flickr, here.

The photos are not my best since I can't access my PS, as my main computer had a hard drive crash this morning. I am very afraid, because my beloved Photoshop is on that computer...cute techy-geek hubby will have to check it out tonight....crossing my fingers he can fix it.

Here is the tiara I received from Heather. The colors are absolutely perfect, and I adore the vintage bling and pom-poms! The "R" could be for either my name or my event planning company Romanza Events. Perfecto!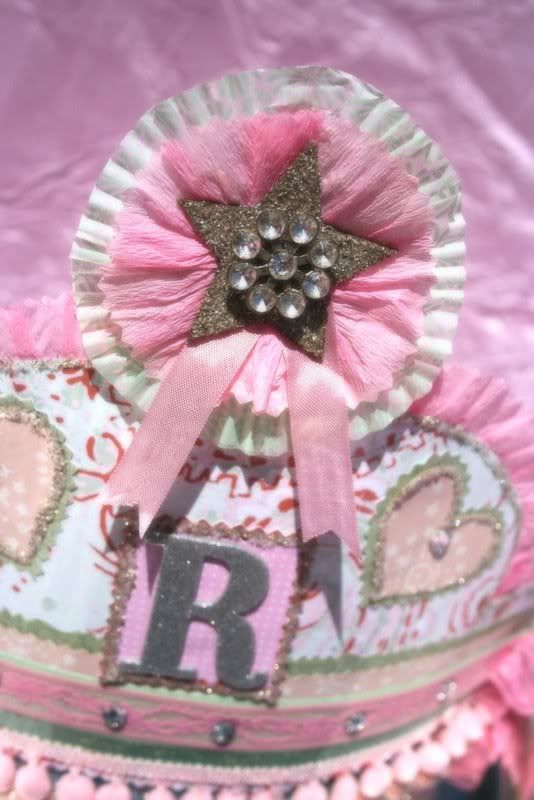 And here is the tiara I made for Heather. She likes vintage buttons, and glitter. But she LOVES birds, so I thought this lil' cutie birdie could oversee her work as she creates so many wonderful things that she does for so many people. She even has her own tiny tiara! She is dressed and ready for a tea party...


The materials are: raised wallpaper on the bottom portion with glitter highlighting the raised scrolls, silk flowers with rhinestones centers along the bottom edge, tinsel ribbon on edges, vintage music sheets cut into hearts & edged with glitter, a party cup cut in half for the bird's nest filled with feathers, vintage buttons I got from a gal at etsy, a rhinestone spray and pink tulle at the top. The bird's "tiara" is made from a tinsel pipe cleaner.


It is much sparkly in person, and I hope Heather likes it. I have been so insecure at trying my hand for the first time in these crafty ephemera projects/swaps since these ladies are hard-core talented at it!


Thank you Holly for hosting such a unique and fun swap!