For our upcoming MOPS Tea Party this week, I needed to make centerpieces for the mom's tables that I am contributing. Since we are on a budget, fresh flowers were not an option. Besides, I can use them over and over. I purchased the supplies from Dollar Tree (we finally have one close by! yay, before I had to drive way far to the nearest one!).

Sometimes with silk flowers it can be tricky to get a nice arrangement, because let's be honest - some silks look really cheesy-tacky, especially from a dollar store. So I just spent time pulling different bunches and putting them together to see what worked.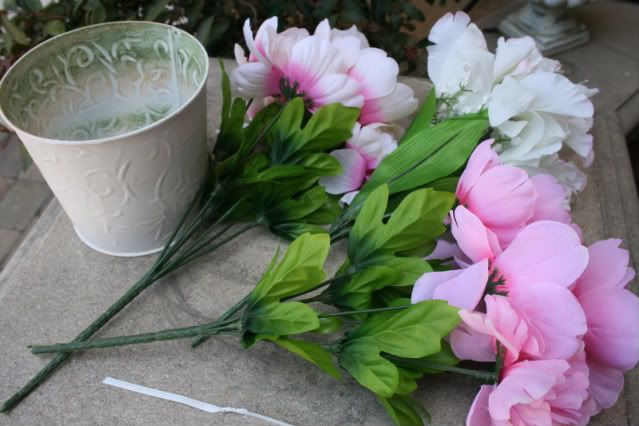 You can see the tin containers were originally an ugly green and orange brushed-on color. So I just sprayed painted the outside of the tins with my all-time fave spray paint white Kilz to get rid of the uglies.
Keep that in mind when searching for cost-effective containers - "Can it be spray painted, if it needs a makeover."? Make sure your container isn't too big since it will have to be filled.

Each silk bunch stem got bent in half to fit the height of the tin. Then I bunched them together moved some of the colors around and tied securely with a wire tie. You could use florist wire, pipe cleaner wire or a chenille wire as well. Then I bent some of the flowers forward, so they would hang over the container edge.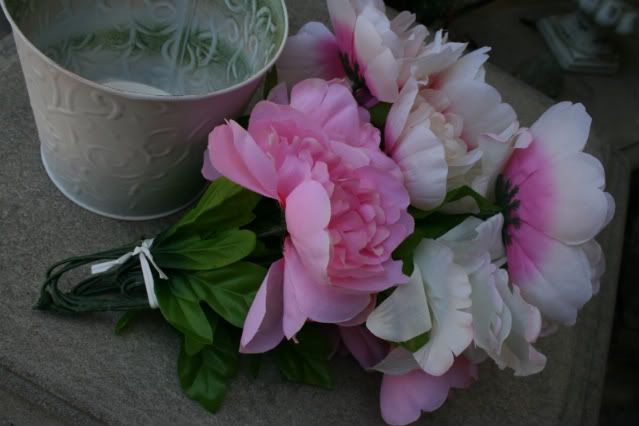 Shoved it in the container, fluffed it a bit and boom, done. After the pic I did add some pink feather tufts that I cut-up from a boa.
Total cost for each arrangement: $4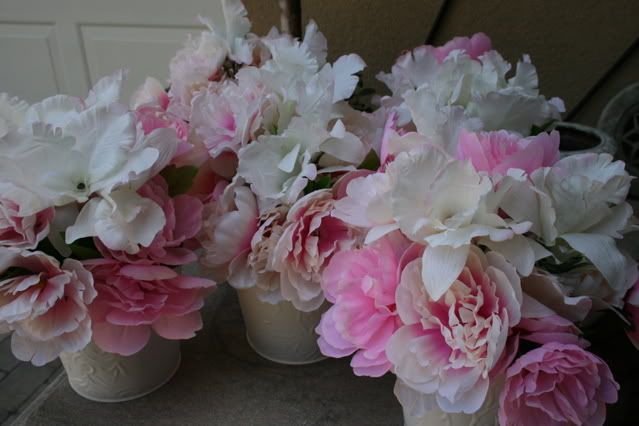 I will show pics of the centerpieces at the tea party later!