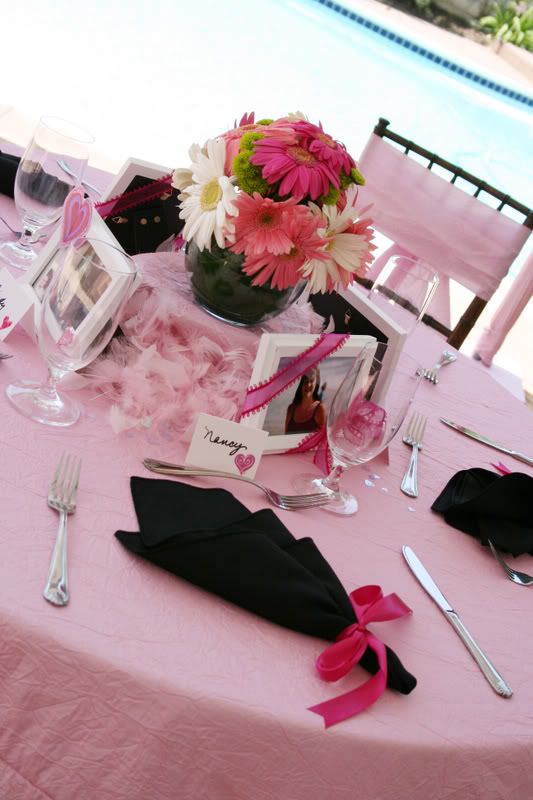 I helped with a bridal shower last weekend (just trying to get caught up from last week). I did the floral and linen decor for a caterer that I work with occasionally. Totally a very last-minute gig, not my best floral work with such short notice, but the host specifically wanted gerbera daisies. And then she put out photos of the Guest of Honor, so we had to elevate the centerpieces so you could see them. That's the thing with event planning - have to be flexible and resourceful.

The shower cake had a heart on it with "Elevator Man & 37" piped on the frosting. The host of the bridal shower told me the story of how they met less than a year ago. At the time, the bride-to-be was working in a hi-rise in downtown L.A. and the groom-to-be is an elevator engineer who was working on the hi-rise's elevators. They noticed each other as she would come and go from her office on the 37th floor, but never spoke. So whenever she would enter the building, his buddies would radio to him that "37" is in the building and he would position himself to be in the area to see her. And she was referring to him as "Elevator Man" to her friends at work, since they did not know each other's names. After a while she kind of gave up, thinking maybe he must be married since he was not saying anything to her....

Finally, as she went into the elevator one day he followed her in. They finally talked! After work that day, they met over coffee. The rest, they say is history.

I thought it was a really cute story, could be a Lifetime movie or something.....

To view all the photos of this event, visit my gallery.